Welcome to The Pittsburgh Renaissance Festival, celebrating over 20 years of family fun & magical memories! The Festival is located at 112 Renaissance Lane West Newton, PA 15089, open weekends starting on August 26th and ending on October 1st.
As you wander down the village streets and pathways of the Pittsburgh Renaissance Festival, experience a 16th Century Medieval Amusement Park! Ready yourself to revel with master revelers, watch artisans create original works of their ancient craft, and be taken in by the tantalizing aromas of roast turkey legs, steak on a stake, fresh baked goods, and much more.
Listen to Erika Jay starting Monday, September 11th through Friday from 10am – 3pm for a chance to win a family four pack of tickets!
Visit pittsburghrenfest.com for more info & tickets!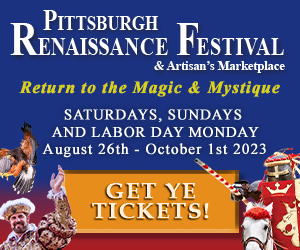 More Posts for Show:
Erika Jay